Related post: Traditional Vietnamese Wedding
Duong Lam ancient village - a truly authentic Vietnam
Ao Dai is Vietnam traditional dress. It is considered as "national spirit" of Vietnam and become a symbol for Vietnamese people. Undergone over hundreds of years with many variations, but Ao Dai still retains the traditional beauty. In the English dictionary Ao Dai still keeps the original name "Ao Dai" with the explanation "A Vietnamese women's long-sleeved tunic with ankle-length panels at front and back, worn over trousers".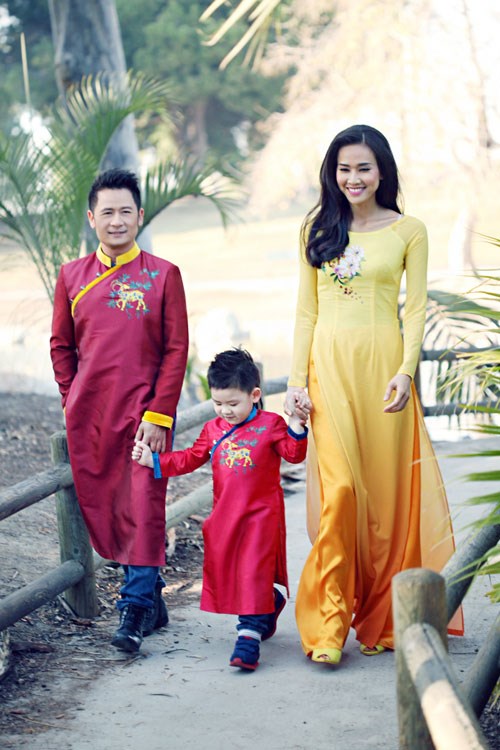 Ao Dai apparently has its own way to evoke the beauty of all bodies. The charming, gentle and discreet beauty of Vietnam's Ao Dai is showed out with high neck, round shoulders and two willowy long lappets. If Westerners like to show out their beautiful neck and hands, The Ao Dai is very discreet. But Ao Dai has a different way to show the beauty of a woman. The Ao Dai is designed with a tight of upper-body from the neck to the waistline; two long lappets are softly fall at front and back, out side of a loose silk trousers; be opened from the waist downward makes gesture of wearer comfortable; The Ao Dai shows subtly the soft curves of a woman, and creates the feeling of a long slender legs. A woman looks more gentle and willowy when they wear Ao Dai.
The Ao Dai has the personalization: each of an Ao Dai just make for only one person, and also just that person can fit with that one. The tailor measures the wearer carefully before making for her an Ao Dai. After finishing, the wearer try the Ao Dai to find not fit points and the tailor will fixes them one more time. There is no mass production technology for making Ao Dai.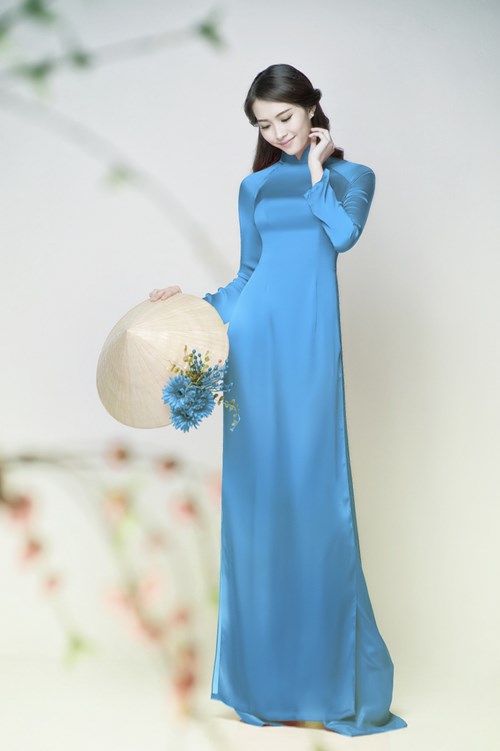 Every nation in the world have a particular kind of clothes, seeing their attire, we know which country they belong. Japanese people have Kimono, Korean people have Hanbok, or Chinese people have Qipao, and Vietnamese people have Ao Dai. But Ao Dai is different from Kimono or Hanbok, it is the combination of the traditional and modern features. Ao Dai is not restricted just to wear in some places or occasions that can wear everywhere, used as office uniform, school uniform, even going out or wear in a formal reception at home. Wearing Ao Dai also very easy because it is very simple with two parts: long dress and silk trousers. Wearing Ao Dai with the sandals, shoes or high heels are all acceptable. Vietnamese women usually wear a conical leaf hat with Ao Dai, but it is optional, they can wear "Khan Dong" for important occasion as wedding day or do not wear any hat if going out.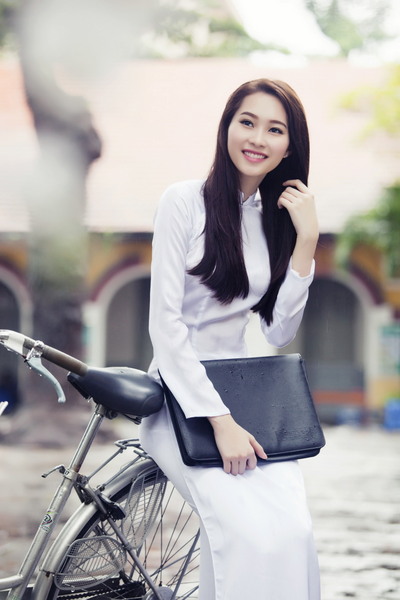 Recently, the artists and designers brought a new beauty for Ao Dai. Remains the same style and classic structure, they added new material and blew the beauty that be refined from traditional culture to Ao Dai as using traditional bronze drum pattern, or using embroidery art on Ao Dai.
Whether Vietnamese people now no longer wear Ao Dai as an everyday outfit as before, but it is still be used on a regular basis. Each Vietnamese woman always has at least one Ao Dai in her wardrobe. someone once said, the Vietnamese women is the most beautiful when they wear Ao Dai. Ao Dai went in to many poets, songs and fine-art and become a timeless beauty of Vietnam.