Vietnam is a country with tropical monsoon climate. In autumn, Vietnam is dominated by the storms and tropical depressions. Therefore, the beaches are secluded in this season, but this is the beautiful season of many other destinations. Underneath are some ideal destinations for autumn in Vietnam.
Hanoi city
Hanoi – the ancient capital of Vietnam - is recognized as the most beautiful in autumn. Hanoi in autumn is the inspiration for many Writers, poets, musicians. The guest can easy to find the old tree with the yellow leaves combined old houses make a beautiful picture. Climate of Hanoi in the autumn is also very pleasant, not too hot nor too cold. Autumn is the time that you can find many kinds of specialty in Hanoi. One of them is "Com" that was made from new rice.
Duong Lam ancient village
Located in outskirt of Hanoi, every autumn, Duong Lam welcomed thousands guests come here to admire its beauty. Having an ancient beauty with many traditional houses built by laterite, traditional village gate, banyan trees and the rice field, Duong lam becomes more attractive when autumn comes. In autumn, the rice field changes from green into golden color, straw is dried in all streets; grain is dried in any yard. Duong Lam as a country girl wears bright yellow shirt.
Ba Be lake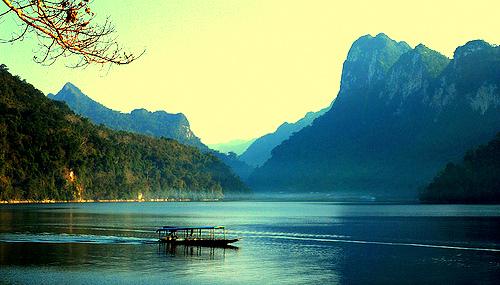 Ba Be lake is located in Bac Kan province, near by Ra market, it is bout 40 Km from Bac Kan town. Ba Be lake is one of the most beautiful lake in the north of Vietnam. coming here, you will have exciting experience when sit on small boats to wriggle in the dim Puong cave, admiring and imagining of strange shapes created by thousands of stalactites. Leaving the cave, you can lose yourself in the vast region of Ba Be watching beautiful sight with crystal clear water lake reflective the blue sky. t was described as a water-colour painting captivates many tourists from past to present. in the autumn, it is appropriate place for travel and relaxation by the fresh cool air.
Ban Gioc water fall
Ban Gioc water fall is located in Cao Bang province. It lies on the border of Vietnam and China. The main part of the waterfall is about 100 meter wide, 70 meters high and 60 meters deep. This is a rare waterfall acquiring pristine beauty, also one of the most beautiful waterfalls in Vietnam. Waterfall look like a sheet of white silk crosses mountains. Two waterfalls with dozens of white cascades appear majestically. On top of the fall, sometimes has the yellow flowers, adorned for scenery here. In autumn, Ban Gioc waterfall becomes beautiful than ever with the fog above the water in the early morning combine with the bright yellow color of the leaves and sunlight.