Travel is not only for discovering a new culture, taking photos and tasting the new taste of food but a chance to shopping the new things and get in touch with local habits. Before finishing the tour, traveler usually thinks about souvenirs as another way to remind them about the tour after coming back home, and also find the gifts family members and friends. Coming to Vietnam, there are some things that you shouldn't miss; they would be beautiful Vietnam souvenirs for your trip.
CONICAL HAT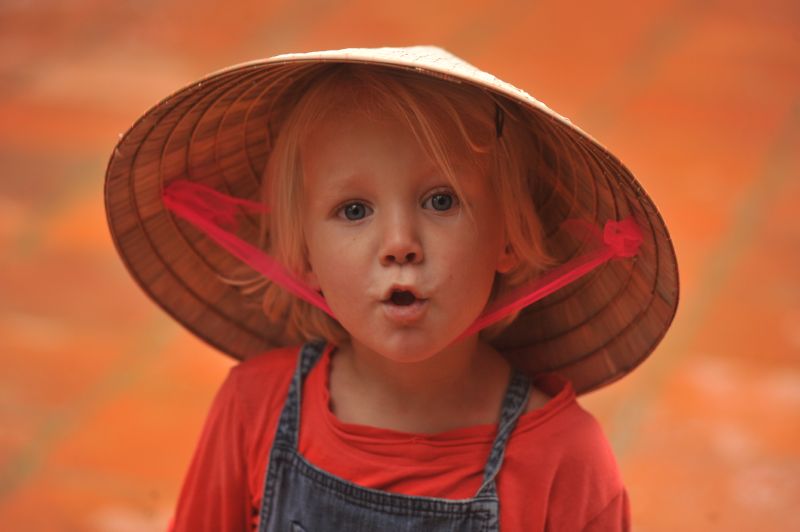 Conical hat - Non La in Vietnamese - is a very popular thing in Vietnam; it is not only very useful but also very beautiful and now being a cultural symbol. Wearing a conical hat, Vietnamese people especially Vietnamese women look very bland; moreover conical hat can protect them from downpour rain or sun light. Conical hat is made from bamboo, dried bamboo shoot cover, and dried palm leaves, under skillful hands of people these simple things become very lovely hats. The price of the conical hat is also not expensive, just from 30.000 vnd to 100.000 vnd depending on quality. Conical hat would be an ideal of Vietnam souvenirs.
AO DAI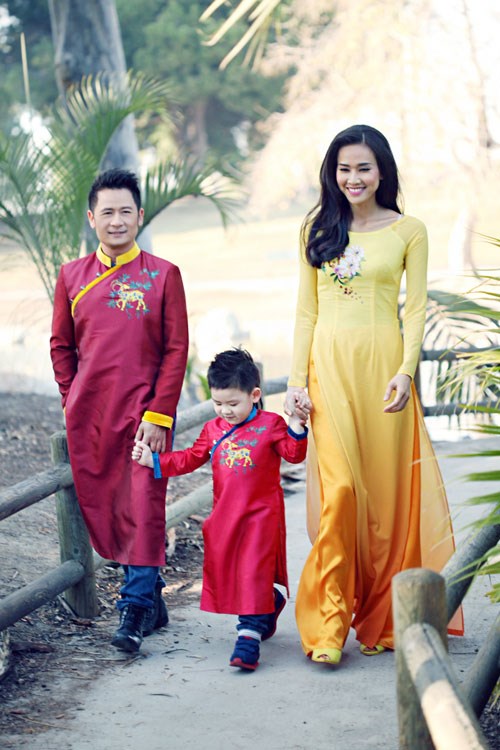 Ao Dai is the traditional cloth of Vietnamese people that has been very popular since 18th century. Unlike Kimono of Japanese or Hanbook of Korean, Ao Dai is very easy to wear, moreover you can wear it at the official events or just for going out. Ao Dai makes wearer become more charming because it fit to the body, but also very discreet. Ao dai is for everybody, even elder or children, man or woman. To have an Ao Dai you would pay at least 700.000 VND to 1.500.000 VND.
SILK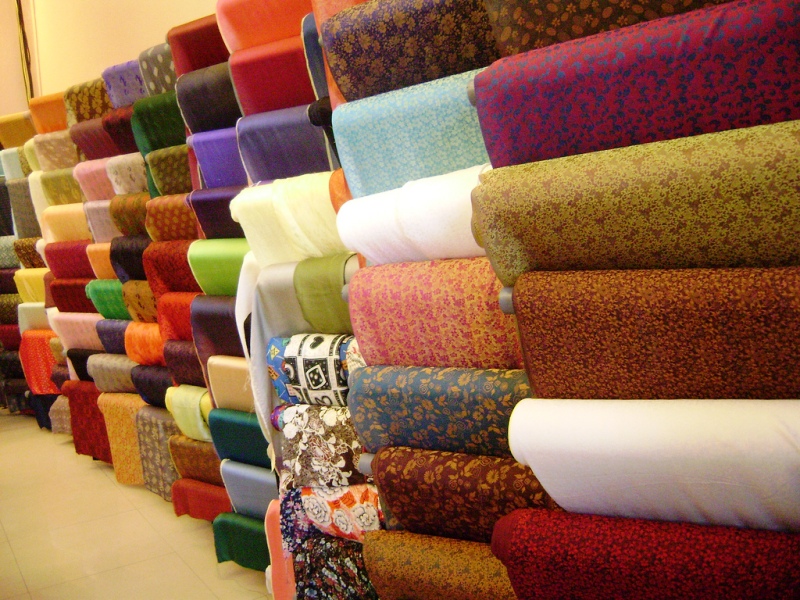 Vietnam is very famous for silk; one of the silk brands that very famous in Vietnam is Ha Dong silk. This kind of silk is become an inspiration for a very famous film "Ao Lua Ha Dong" that shortlisted to Oscar nomination for best foreign language film 80th. Silk of Vietnam is very soft and has very beautiful color. In the past, silk is considered as luxurious product and for nobility only, but now it become popular and tourist can easy to buy this beautiful product. The price to buy a real Vietnam silk is from 70.000vnd/meter to 100.000 vnd/ meter. Cause of these things, silk is one of very popular Vietnam souvenirs for foreign tourist.
HAND EMBROIDERY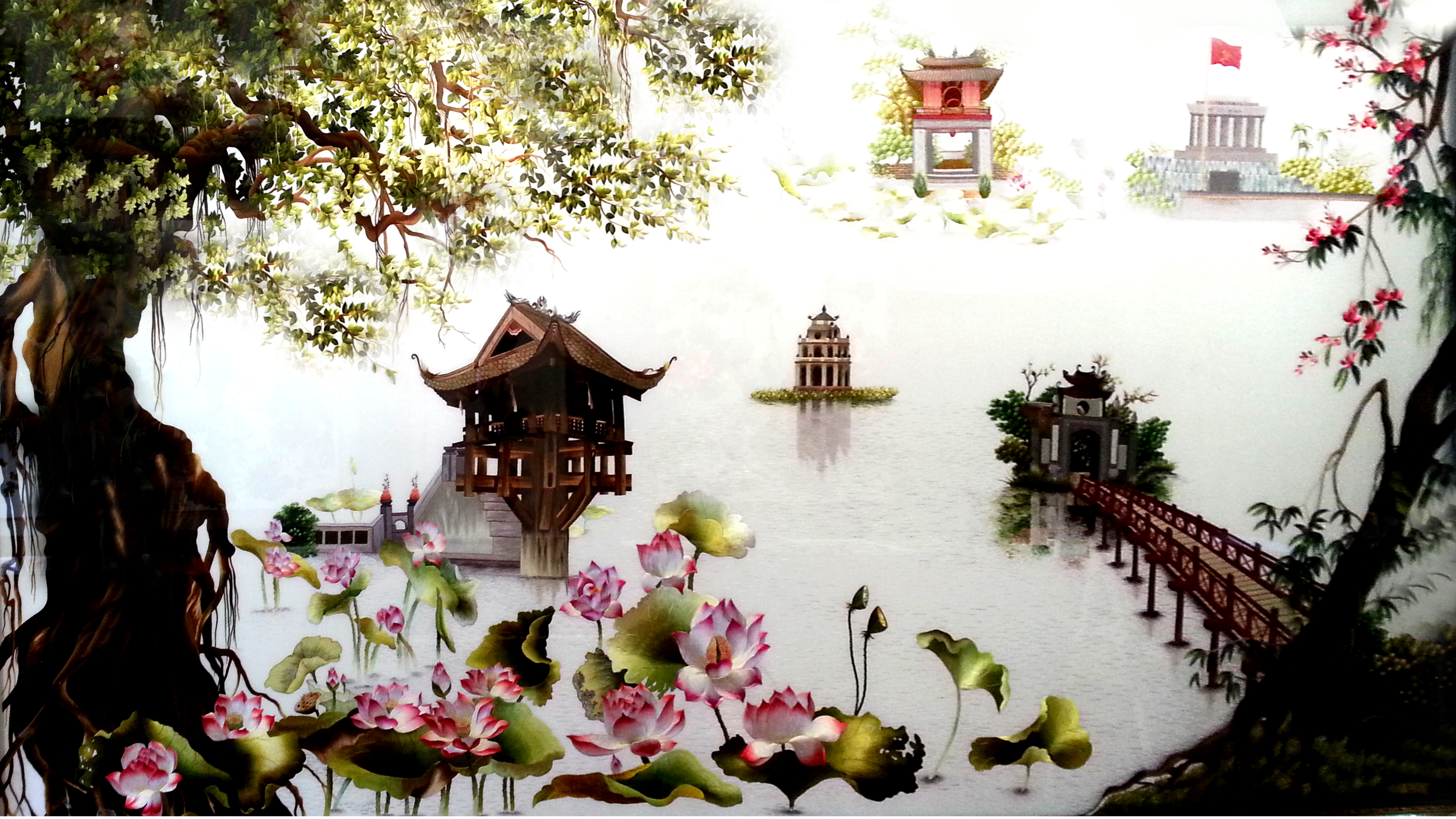 Hand embroidery is the perfect combination between fine art and the art of embroidery. Hand embroidery of Vietnam very famous for its delicacy. Under the skillful of artist, the tiny threads become beautiful flowers, trees, animals, houses and people… admire the finesse of the artists, many tourist come to Vietnam want to buy the hand embroidery to become a meaningful for their trip to Vietnam. Depending on the size and the delicacy of the picture, it could be from 500.000 VND to 2.000.000 VND per one.
SAND PICTURES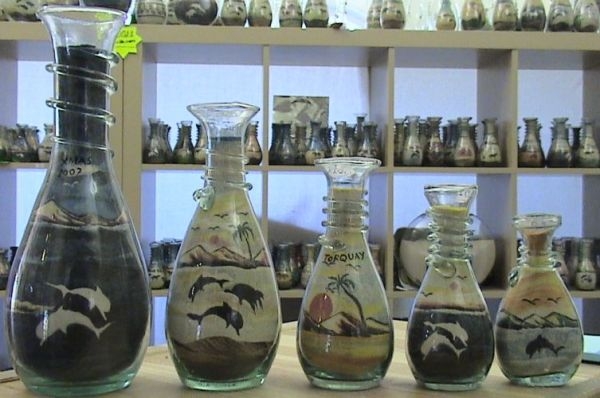 Sand painting is the new kind of art in Vietnam. There are two kinds of sand painting, the first one is the artist pours colorful sand and powdered pigments on a sticky surface and fixating it with spray; the second one is the artist pours colorful send in a glass vase, cup or bottle, from outside people could find out that the surface is become a beautiful picture. The price for sand pictures ranges from 300.000 VND to 700.000 VND.
Choosing the Vietnam souvenirs above, you would have a beautiful gifts for your family members, friends or may be yourself after the trip to Vietnam. They would remind you about a memorable trip, and a beautiful Vietnam.